Shandong Zhanhua Yonghao
News
Add: GENGJU VILLAGE NORTH ONE KILOMETER,,ZHANHUA DISTRICT,BINZHOU CITY,SHANDONG PROVINCE,CHINA.
+86-543-7596322
Straight people make up 20% of new HIV infections, so why do less than 1% of them take PrEP?
Date: 2023/01/16
HIV is often thought of as a disease that predominantly affects men who have sex with other men. But in 2020, nearly 22% of new infections occurred through heterosexual contact, raising the question: Why aren't more straight people on PrEP (pre-exposure prophylaxis)?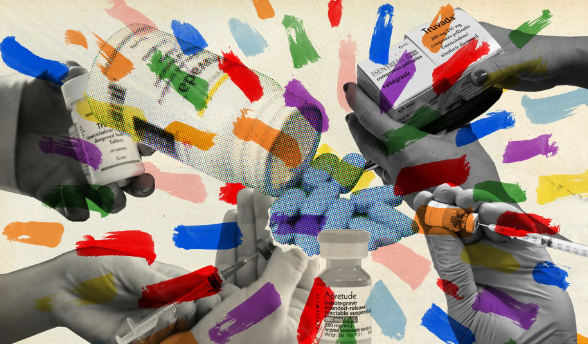 PrEP, a daily medication that can greatly reduce one's chances of contracting HIV, is barely used by straight people. In December 2021, the U.S. Centers for Disease Control and Prevention (CDC) reported that only 32.3% of heterosexual adults had even heard of PrEP, and fewer than 1% of straight people use it.
Heterosexual adults are interested in taking PrEP when they learn about it, the CDC found. The problem may be that doctors aren't recommending PrEP to straight people because they see it as a "gay medication." This is partly because more funding and effort has been put into reaching men who have sex with men with PrEP education and information, the San Francisco AIDS Foundation reported.
Some doctors aren't even aware that PrEP medications are used to prevent HIV, seeing as the same medications are typically given to HIV patients to help suppress the virus. Other doctors fail to tell straight patients that PrEP medications can also be used as PEP, a post-exposure prophylactic that can help someone avoid contracting HIV after a possible exposure.
A 2019 study found that 45% of medical professionals said they had low knowledge about PrEP medications, and 71% didn't have a screening method to identify patients who could most benefit from the pills. This lack of knowledge made medical providers 91% less likely to prescribe the medication. A December 2022 study reinforced some of these findings.
Notably, Descovy, one of the newer PrEP medications, isn't recommended for people who were assigned female at birth (AFAB) — partly because such people weren't included in the drug's trials. However, AFAB people can safely take Truvada and other PrEP medications.
"We have to redouble our efforts to reach heterosexual, cisgender women and men with our PrEP messaging," Dr. Monica Gandhi, an expert in HIV and infectious diseases told HIV Plus magazine.
For more info on how to get on PrEP, go here.