Shandong Zhanhua Yonghao
News
Add: GENGJU VILLAGE NORTH ONE KILOMETER,,ZHANHUA DISTRICT,BINZHOU CITY,SHANDONG PROVINCE,CHINA.
+86-543-7596322
Key facts about HIV and risk factors of HIV
Date: 2022/09/30
Key facts
——To reach the new proposed global 95–95–95 targets set by UNAIDS, we will need to redouble our efforts to avoid the worst-case scenario of 7.7 million HIV-related deaths over the next 10 years, increasing HIV infections due to HIV service disruptions during COVID-19, and the slowing public health response to HIV.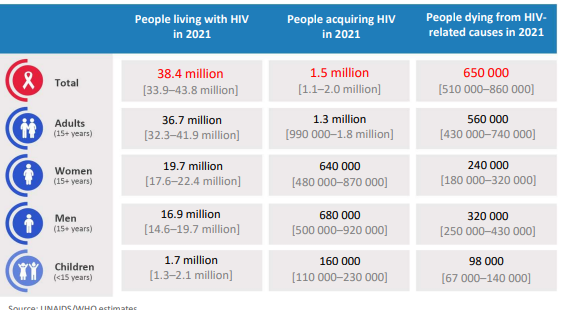 ——HIV continues to be a major global public health issue, having claimed 40.1 million [33.6–48.6 million] lives so far.
——In 2021, 650 000 [510 000–860 000] people died from HIV-related causes and 1.5 million [1.1–2.0 million] people acquired HIV.
——There is no cure for HIV infection. However, with increasing access to effective HIV prevention, diagnosis, treatment and care, including for opportunistic infections, HIV infection has become a manageable chronic health condition, enabling people living with HIV to lead long and healthy lives.
——There were an estimated 38.4 million [33.9–43.8 million] people living with HIV at the end of 2021, two thirds of whom (25.6 million) are in the WHO African Region.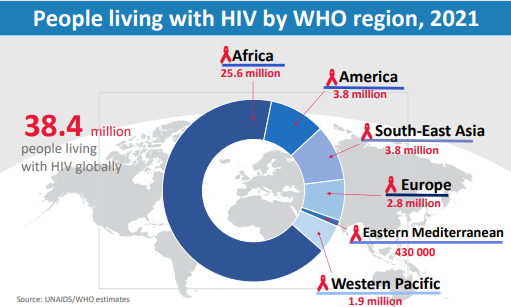 Risk factors
Behaviours and conditions that put individuals at greater risk of contracting HIV include:
——having condomless anal or vaginal sex;
——having another sexually transmitted infection (STI) such as syphilis, herpes, chlamydia, gonorrhoea and bacterial vaginosis;
——engaging in harmful use of alcohol and drugs in the context of sexual behaviour;
——sharing contaminated needles, syringes and other injecting equipment and drug solutions when injecting drugs;
——receiving unsafe injections, blood transfusions and tissue transplantation, and medical procedures that involve unsterile cutting or piercing;
——andexperiencing accidental needle stick injuries, including among health workers.